This feature will allow you (if you have a boundary in SWAT RECORDS for each field) to have a map of either a single or multiple farm and highlight/color the fields by crop. You will also be able to access Soil Sampling, Scouting, Plant Stand and Maps and Files windows directly from this page.
To access this Farm View, go to SWAT RECORDS > Farm View. You can then select "Fields for (Farm Name)" that will show you only the fields for that farm or you can hit "Map of Multiple Farms Fields" that will allow you to toggle to view multiple farms at the same time.
When you first open it up, all the fields will be grey in color. You will need to hit the settings icon and then select a color for each crop/crop type. It will only populate the crops that have been selected for that Crop Year.
Note: These settings will be saved for everyone within your company account. These settings are not a per device setting.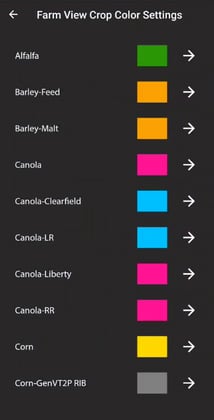 You can then select on one of the fields, and it will populate the Farm and Field name. Once a field is selected, you can click on one of the icons at the top of the window to take you to an operation or maps and files window.

- will take you to the Soil Sampling logistics page for the field selected

- will take you to the Scouting operation for the field selected

- will take you to the Plant Stands operation for the field selected

- will take you to the Maps and Files window for the field selected