IMPORTANT: Each ID needs to have its own special name in order to import and report correctly. Make sure you do not duplicate. To check if the prefix has been used before, you can go into Soil Tests > List Sample Prefixes for all Farms and search to make sure the prefix hasn't been used before by scrolling through the list or printing a Prefix-Farm report.
In the case of double depth sampling. Use the same sample ID but ensure to include the depth. It will then automatically report each depth separately when you go to print a report. For Example:

Sample ID's for SWAT Maps
1. In grower setting, make sure you have setup your Grower's prefix. (3 letters that will be associated with the farm/Sample ID)
2. From the main farm page, go to Fields.
3. Click on the field you need sample ID's for.
4. Click on Generate Sample ID's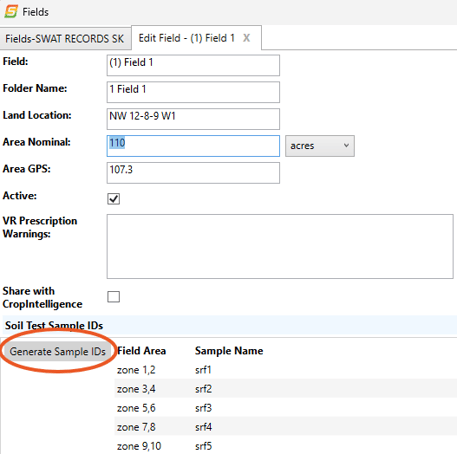 Note: All fields must be numbered for this process to work correctly!
Sample ID's for sampling not based on SWAT MAPS
1. Go to Soil Tests
2. Select your Grower/Farm/Field
3. Click on Edit Sample ID's
4. Click on Add
​5. Give the ID a name, and select the "Field Area" that you are testing